Creating Products for
The All New 2022 Tundra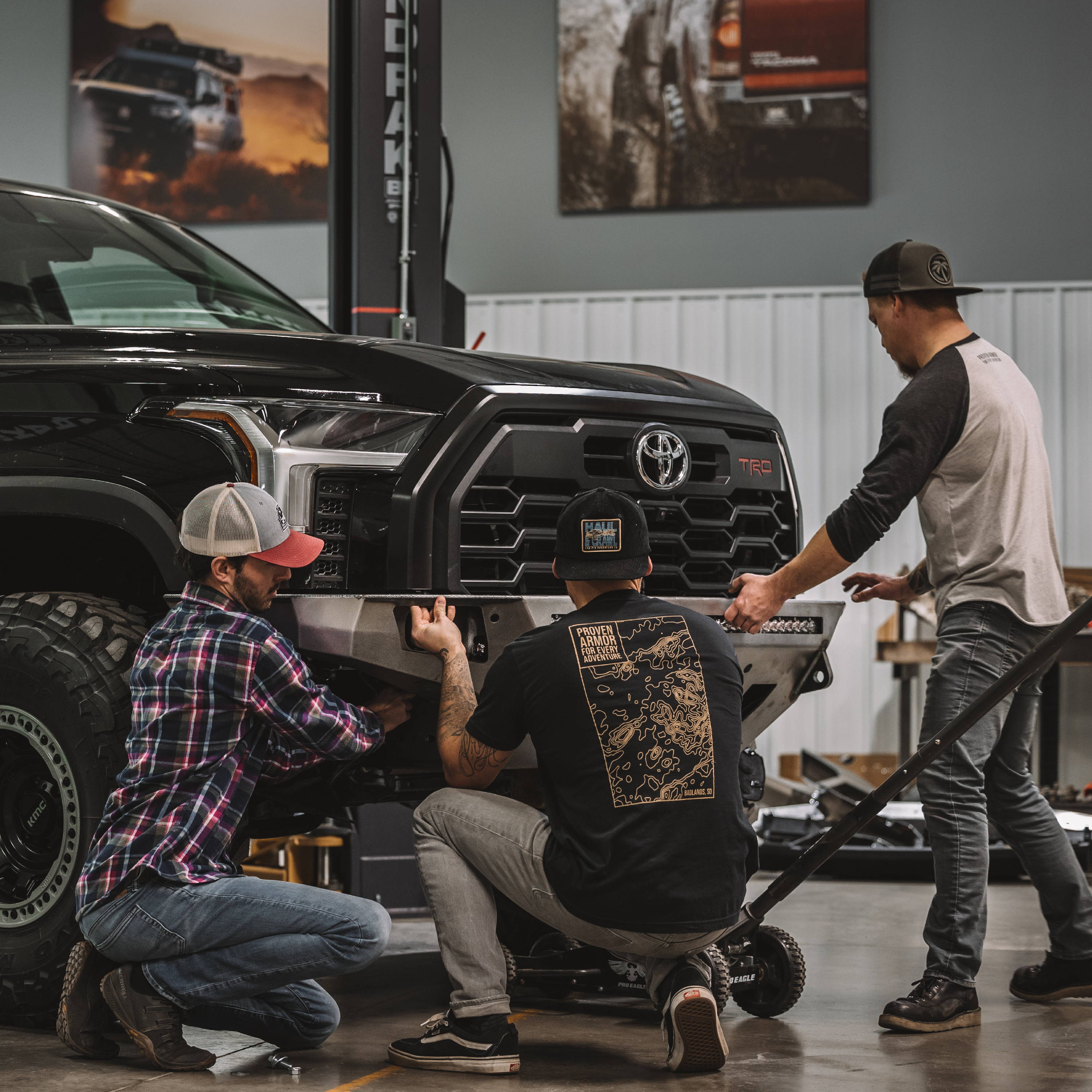 A new chapter opens in the Toyota line-up, completely redesigned from the ground up, the new Tundra could turn out to be one of the greatest vehicles to choose for overlanding. A legacy was born in 1999, and today the Tundra is reborn; Delivering on a new promise of off-road performance and durability that only Toyota can offer.
Luck was on our side and the timing was serendipitous as one of our long time friends, Michael with Adventure Motors, gained early access to the brand new 2022 Tundra. He willingly offered his Tundra up as a sacrifice for us to rip apart for a few weeks, and we dropped everything to jump on this project. Our first obstacle was that Michael's Tundra was located in Missouri, and C4 is in South Dakota. Michael wasted no time getting the truck transported to us and left it with us for a little longer than a month.
We dove right in, completely disassembling the front and rear bumpers to start learning everything we possibly could about all of the changes Toyota has made on the Tundra. Creating new products for a brand new vehicle is always a special treat, with plenty of learning curves, difficulties and little victories along the way. It takes tons of planning, hours on CAD programs, dirty hands and long days and nights. It was a lot of work to put it lightly, but like most things in life, the extra effort was worth it.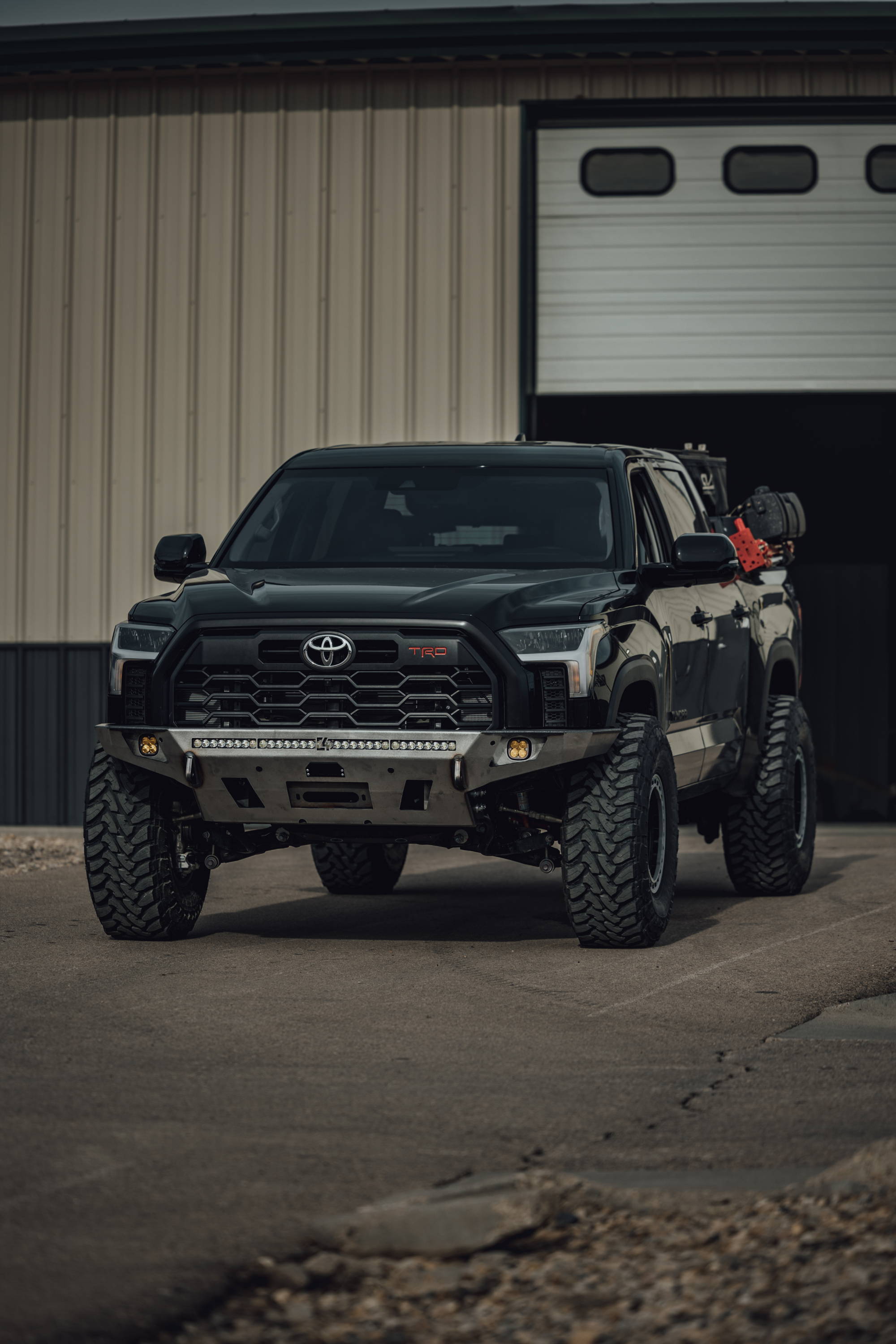 Finding the perfect mix of style and function
Starting out with the designing process we were determined to combine our personal style with a functionality that would hold up to any terrain. Our team worked closely on this project and we conceptualized front and rear bumpers. Drawing up a bumper in a CAD program can sometimes be relatively simple but, as always, trying to find the perfect mix between style and go-anywhere capability while ensuring all electronic safety and drive assist features function properly, brings on an entirely new set of challenges. As we started to tear apart the front end of the truck, it gave way to the realization that we still had a lot to learn about this vehicle. We quickly found out that this Tundra was completely different from most of the other Toyotas we had dealt with in the past. Our biggest challenge was finding a way to allow all of the modern safety and collision sensors to function properly with our new bumpers. We failed over and over again, trying to get the sensors placed properly all while learning new things about the safety systems and just how intricate they are. It took days, heck even weeks for us to figure it out! After what seemed like 100's of test drives to ensure all systems were working flawlessly, we succeeded in finding a way to integrate the sensors into the design of the bumper and capture that perfect blend of function and form we were chasing after.
When we are designing new products, we always ask ourselves "How will this benefit the customer?" The new design of the Tundra presented many challenges and obstacles we were not expecting to have to deal with, like- what is going to be the best way to mount the bumper onto the truck since the frame is completely different from previous models? It's crazy when you're so deep in creating a new product how your focus is in hyperdrive as your brain recruits every ounce of resources to the task at hand - It's a magical, beautiful thing. With creativity pulsing at a level 10, we figured out a solid mounting system which allows the bumper to be installed in such a way that it accommodates a winch, 40" light bar and all of the safety sensors without any major cutting or irreversible changes to the truck. We also decided to try something new with our bull-bar options. We created a combination of boxed sheet metal and tubing for the center bull-bar structure instead of an all tube center bull-bar on the triple hoop option. We love the look and we're excited to see the finished product fully powder coated and installed!
Time proved to be our number one problem throughout all of this. It felt like we had the truck for 3 days, not 3 weeks. When it was said and done, we hardly had any time to soak it all in, and our fun was cut short as the transport truck showed up at 6am the next morning, an hour before our shop even opened. Eyes half open, we watched the truck load onto the trailer and we dreamed of the day we would meet again.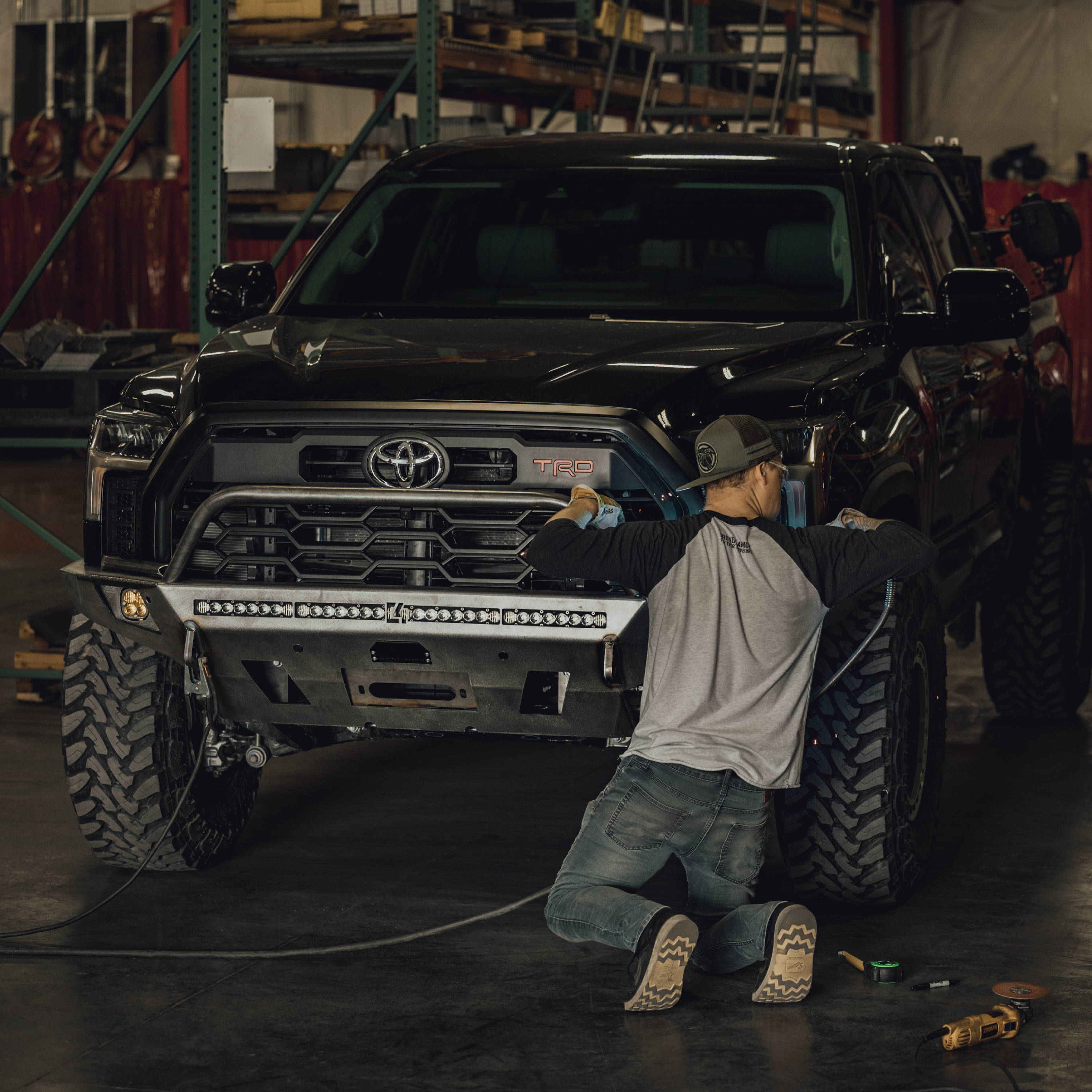 The process thus far was playing out exactly how we had envisioned it, and now it was time to take our mission to the next level. We packed up our bags and headed down to Missouri to see our handiwork again and meet up with our friends from Adventure Motors and Tacoma Beast to film an installation video for our all new 2022 Tundra products. As always, the Tacoma Beast crew holds themselves at a level of professionalism that is truly admirable and we are always stoked to work with them on any projects they present to us. While filming, the team at Adventure Motors were great hosts - making sure we were comfortable and gave us all the right tools for success. The first day our hosts even took us to lunch at the local Mexican restaurant to get some incredibly tasty authentic tacos for lunch! We spent two days in Missouri filming, creating, and having a great time with even greater friends. Finishing up our final evening with some great food and beers at Kansas City Joe's BBQ, we loaded up and started our trek home, holding the unique satisfaction that comes with knowing you just broke new ground. The flight home was filled with thoughts of what's to come - new opportunities that pair people with our favorite form of 4-wheeled adventures.
Collaboration through community
Through all of this we realized what we love so much about the off-road community, and we are excited to chase after more of what matters…passion, drive, team, style and collaboration. It's funny how a project like this with new difficulties and new victories can bring people together, showcasing the commonalities and respect they have for one another. We are so confident in our armor for this new Tundra, it's been a rewarding experience watching a concept turn into a mind-blowing reality. The pre-sale for our all new line-up is available NOW!Click here to pre-order the best armor available for your new '22 Tundra.